In late 2013, the co-founders of Binpress, "the marketplace for open-source projects", approached me to conduct a UX assessment and provide recommendations for improvements to their product pages and checkout flow. While they had conducted some A/B testing prior to engaging my services, they were concerned that an overly complex flow might be dissuading users from completing a purchase.
I promptly put on my 'user hat', and began assessing the overall flow of this interaction, with an eye to areas for improvement. Ultimately, I produced a user flow diagram, and a series of detailed assessments of the individual pages that comprised the experience.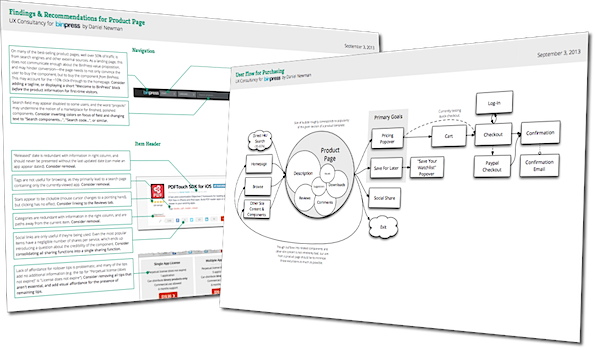 Download the assessment document (1.7mb)
Following the assessment and further discussion with the stakeholders, I turned my attention to creating a set of interactive wireframes to showcase potential solutions to the problems that I had identified. These wireframes ultimately became the specification from which Binpress directed their designer and developer to work.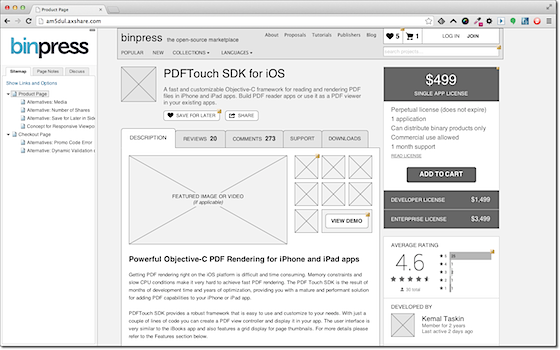 Explore the interactive wireframe
Following a process of refinement and iteration with the Binpress team, the core ideas from this proposal were implemented on the site, and their already-enviable conversion rates continued to creep higher.
Following the success of this effort, I was further engaged to undertake a similar assessment project for the Binpress.com homepage, the 'browse' page, the Publisher onboarding funnel, and the component creation process. Work on those projects can be viewed below:
Homepage & 'Browse' page:
Publisher onboarding funnel & component creation process:
I continue to work with Binpress as the need arises, with an eye to ensuring their long-term viability through user-centric design.